Hosting a get-together for your company is always a great idea—whether you're presenting awards, giving special announcements, or simple team building. Creating an event is great for morale. But no event is complete without some really great catering.
Finger foods are always good for catering events because they're often cost-effective, light, and simple to eat, as they don't require any utensils. You should include both entrees and desserts in the catering—and for dessert corporate catering in Perth, Australia, Pinjarra Bakery has got you covered. Here is a list of the ten best finger foods for your next corporate catering event.
1) Skewers
Skewers are a great pick for a corporate catering event because they can encompass so many things. Whether you pick a skewer with vegetables, meat, fruit, or a mixture of all three, you're sure to have something for everyone across the board.
2) Sliders
Sliders are just burgers, but tiny! They are more convenient and less messy than the average corporate cookout burger. You can even have a large selection of condiments and fixings for people with specific tastes.
3) Tarts
Tarts are a popular choice for dessert. For the perfect finger food catering in Perth, we at Pinjarra Bakery can definitely deliver. We serve custard, pecan, and gluten-free citrus tarts that are delicious and convenient for any office get together.
4) Cupcakes
Another popular dessert option is the classic cupcake. Cupcakes are usually pretty small, but you can even order mini cupcakes that are even more convenient, leaving more room for other delicious sweets on the buffet table.
5) Pies & Sausage Rolls
An old time Australian favourite, the classic pie and sausage roll mix is the perfect finger food for any catering event. We at Pinjarra Bakery have a delicious assortment of Pies and Sausage Rolls to suit all taste buds.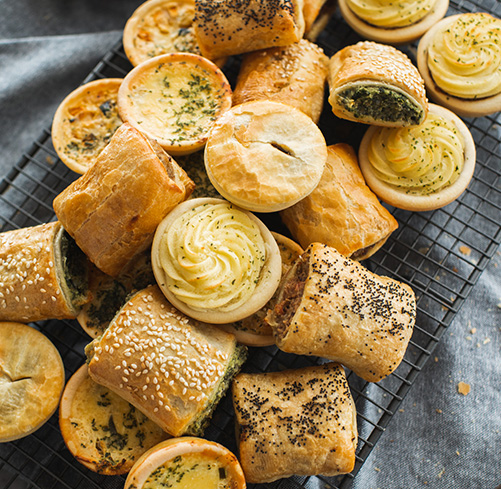 6) Onion Rings
Onion rings are a wonderful choice in choosing something for a side, especially if you go with a slider option for your food. They're fun, casual, flavourful, and great for dipping in many different sauces.
7) Quesadillas
Though quesadillas are often cooked in large tortillas, you can easily cut them down to a fun finger-food sized bite. You can keep them as the simple cheese tortilla, or you can fill them with proteins like chicken, beef, or beans.
8) Pigs in a blanket
A nostalgic offering for many, pigs in a blanket is the often-used name for hot dog bites wrapped in a buttery crescent roll. These can bring out the kid in any employee and are great for setting the mood for games later on in the event.
9) Brownies
Everyone loves a good brownie, and they can be cut into any fun size or shape imaginable with the right catering company!
10) Donuts
For a breakfast-oriented or more coffee time themed catering event, you can't go wrong with donuts. You can have them filled with jelly or simply frosted on top to please anyone in your company.
Call Pinjarra Bakery for Your Catering Today!
Need help catering for your event? Contact us at the Pinjarra Bakery for any corporate catering in Perth, Australia.