Perth is a vibrant and bustling city, and if you're planning an event or celebration, catering is an essential part of the planning process. When it comes to catering, there are plenty of options to choose from, but if you ask anyone where to get the most delicious and high-quality catering… the answer will be Pinjarra Bakery
Pinjarra Bakery has been serving delicious baked goods and savoury items out of their bakery shops for 25 years now, and their catering services are just as impressive. With all of the classic pastries, pies and desserts, you'll be spoiled for choice when choosing your catering from Pinjarra Bakery
From the entree, to the main, to the dessert, we hope you're hungry
In this blog post, we'll explore the mouth-watering catering menu offered by Pinjarra Bakery's catering services so that you can make your party planning process easy as pie. 
Morning meeting? Whole-day event? Or, looking to treat your guests to an impressive spread at brunch? Look no further than our breakfast catering options
This is an ideal choice for those who are hosting a whole day workshop for employees or colleagues and you need to keep them engaged and interested. Begin the event with a selection of breakfast items from Pinjarra Bakery and they'll be attentive and energetic the whole time… or up until lunch time at least when they'll need to refuel
For a head-turning breakfast spread choose a selection of classic savouries, which features Pinjarra Bakery's iconic Bacon & Cheese rolls, Mini Quiche Lorraines, Mini Fetta & Zucchini Quiches… and more! Paired with a fresh cup of coffee, your guests will be in flavour heaven and ready to take part in the event's activities. 
Whether you're planning a corporate event, a birthday party, or a casual get-together, Pinjarra Bakery's lunch catering menu has something for everyone
Pinjarra Bakery offers a range of sandwich platters, wraps, and baguettes, all made with fresh and high-quality ingredients that will delight and satisfy with every bite. The most popular catering order for lunch is hands down the Deluxe Tortilla Wraps as well as the Party Mix
The spread of Deluxe Tortilla Wraps includes 12 or 24 neatly wrapped tortillas stuffed with fresh and delicious ingredients ranging from roast chicken, ham, salad, curry, cheese and vegetarian options. Talk to our catering team if you have any specific dietary requirements.
The Party Mix is a no-brainer choice for all events. The Mix includes two of Pinjarra Bakery's most renowned pastries, the sausage roll and the beef mince pie, conveniently served in a finger food size. It's simply impossible to beat a classic sausage roll or beef mince pie. With a dollop of tommy sauce on top, you'll make your guests smile from ear to ear.
No matter the event, finger food catering is always a wise choice. When guests are mingling, the last thing they want is to be trying to scoff a big burger or messy kebab stick dripping in sauce… these foods are unenjoyable to eat and leave guests covering themselves in napkins with every bite
If you're looking for mouth-watering food that is easy to nibble on during a cocktail party or a casual gathering, Pinjarra Bakery's finger food catering menu is perfect for you. Offering a wide variety of finger foods, such as mini quiches, sausage rolls, and savoury pastries, your guests will be loving the delicious selection.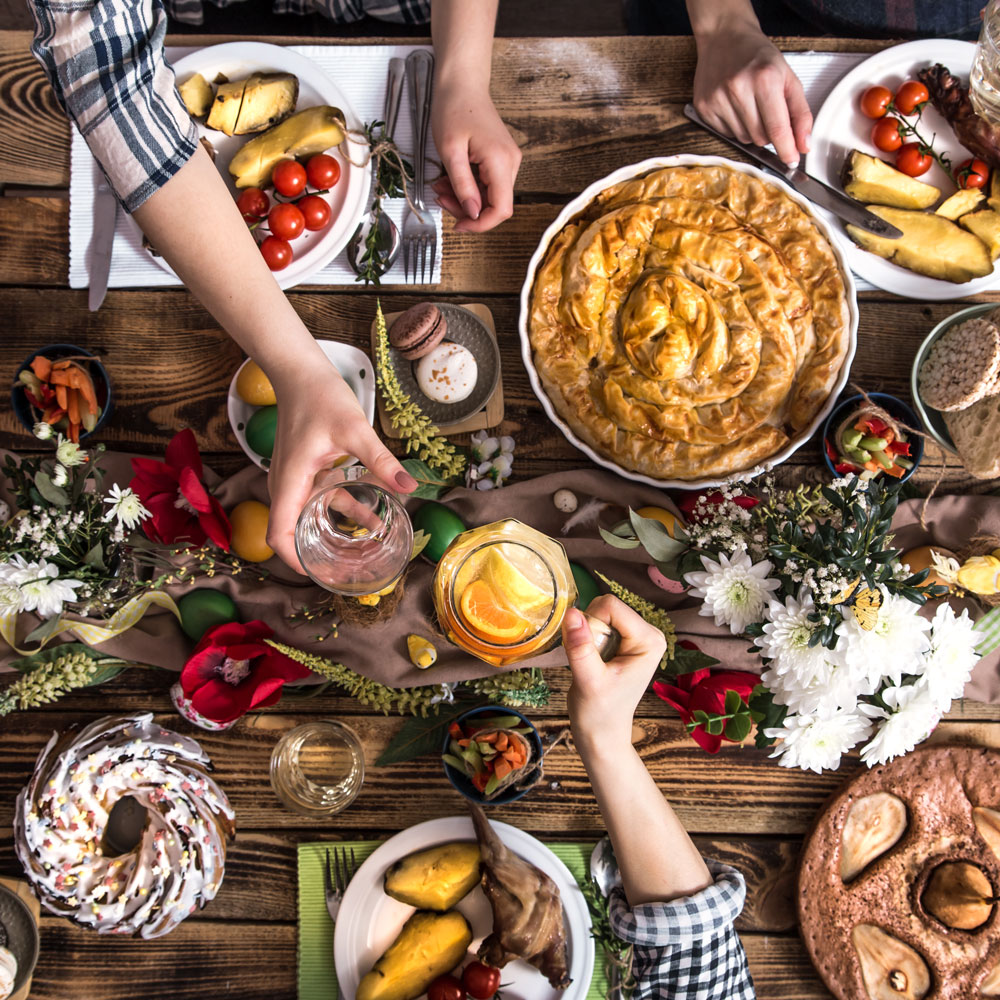 If you have a sweet tooth, you won't want to miss Pinjarra Bakery's Classic Sweet Tooth Platter, which is a crucial part of their catering offerings
No party or event is complete without some sweet treats, and Pinjarra Bakery's Sweet Treats Catering menu has something for everyone. Offering a range of sweet items such as cakes, brownies, pies, and slices. Freshly baked, mouth-watering sweet flavours and served in a convenient bite-size—there's so much to love about Pinjarra Bakery's Sweet Treat Delights!
Pinjarra Bakery understands how hard it is to choose what to order for dessert so that's why they provide the diverse dessert selection in a 40 piece spread or a 80 piece platter. Talk with the PB events team to see what's baking to make sure your favourites are served.
Pinjarra Bakery is a must-try catering service in Perth. Their mouth-watering menu offers a variety of options for breakfast, lunch, finger food, and sweet treats, all made with fresh and high-quality ingredients
Party planners already have so much to organise. From the invitations, the music, the venue, the games, the drinks and so on, the planning process can quite quickly become overwhelming. But not to worry, the Pinjarra Bakery team are here to ease the load with our delicious and convenient catering services
Simply head on over to the Catering tab on our website, browse the selection of goodies and pick your favourites. Add to cart and follow the prompts to place your order. For any requests or questions, simply get in touch with our team and we'll be more than happy to help!
Whether you're planning a corporate event, a birthday party, or a casual get-together, Pinjarra Bakery's catering services will leave your guests satisfied and happy. So next time you're planning an event, be sure to check out Pinjarra Bakery's catering menu!
The secret to a successful event is delicious food.