Everyone loves nachos. Tell me someone who doesn't? While it might not be your first go-to for finger food catering in Perth, we believe nachos are always best eaten when shared. Eating is all about sharing after all isn't it? This month we're bringing the nacho to the pie with our nacho beef invention pie. Genius hey!
While we're inventive with our pies, check out how the rest of the world gets creative with their nacho combos.
Pinjarra Bakery's top 10 nacho recipes
For an alternative to tortilla chips, swap them over with homemade fried wontons and you might just be onto a winner with the fam! Combine it with pork infused Asian flavours, then top it off with red cabbage and pickled jalapenos for an extra kick.
Go beyond the Mexican pantry staples you have at home and try a Japanese inspired nacho dish. We're talkin' crab meat, avocado and cucumber on a bed of tortilla chips and a generous serving of cheese, finished off with a garnish of yaki nori strips.
This recipe passes on the tortilla chips in place of crispy toasted baguette slices, packed with your choice of cured meats, olives, cannellini beans, mozzarella balls, Italian inspired salsa and crema. Oh and don't forget the basil. These are still nachos, right?
The hero here is the tamarind chutney with spicy chickpeas and potatoes bursting full of Indian flavours. Add a dollop of natural yoghurt, lime juice, cheese and cayenne (if you like it hot) to your tortilla chips and you're done!
The punchy and complex flavours of kimchi juice (Korean spicy fermented cabbage) is all the craze in Korean cuisine, and when combined with crispy pork belly in nacho form it's a knockout flavour combo.
If you can't get enough of Middle Eastern aromas, try combining shawarma with hummus, labneh, salad and tahini sauce on top of pita chips to create an Israeli inspired nacho creation.
Who said you can't have nachos for brekky? Take some black beans, corn, salsa and avocados on your cheesy melted tortillas, then finish it off with fried eggs and a chilli yoghurt sauce. We like to add a bit of sneaky bacon too!

We haven't come across waffle fries here in Perth (it's an American thing), but if you're keen on this recipe you can make your own waffle fries at home. You do need a crinkle cutter though to get that waffle shape going. Then add your favourite nacho ingredients and enjoy!
Switch up the sour cream and cheese with homemade cashew-less vegan queso, then add it along with the usual suspects to your tortilla chips – black beans, salsa, guacamole and jalapenos. Yum!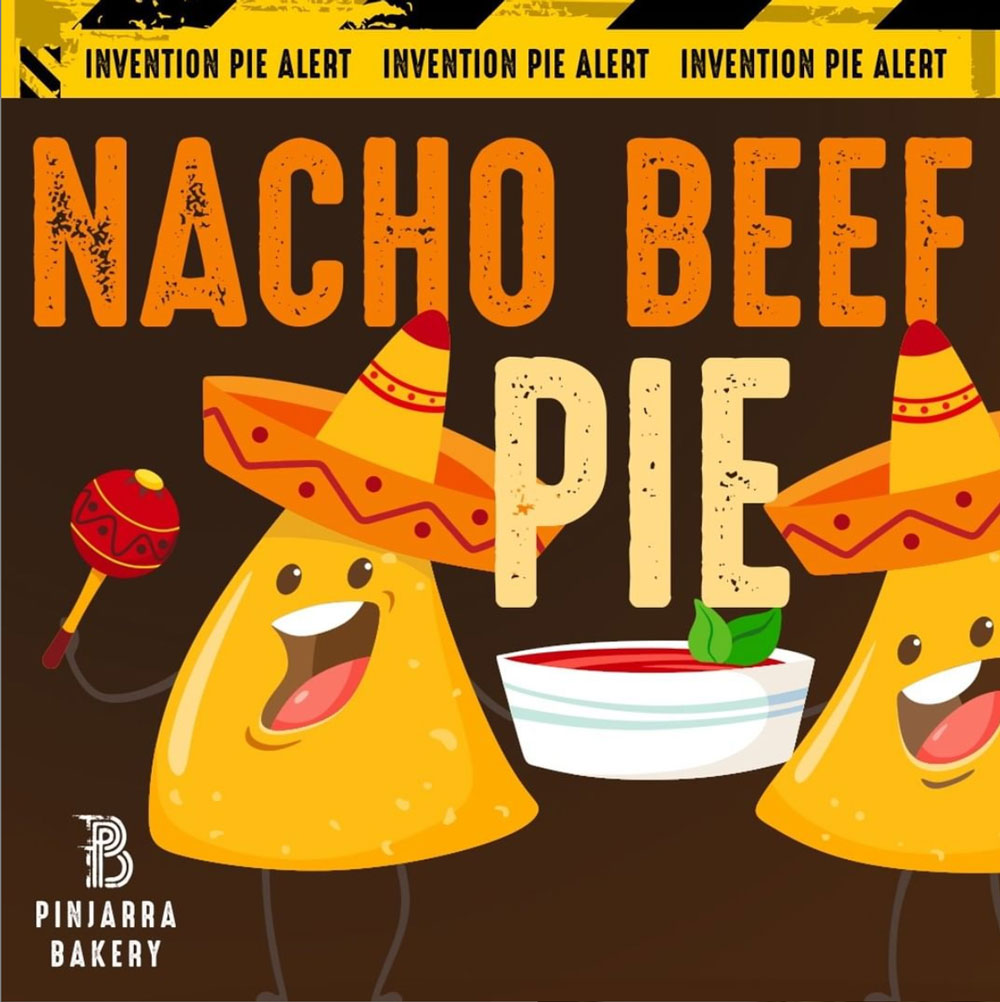 We had to round off the top 10 with our very own Nacho Beef invention pie. Encased in our premium flaky pastry, it begins with a layer of crunchy corn chips- next stop our Premium beef mince blended with onions, chilli, mexe beans & tomato salsa and finishing off with a sprinkling of cheddar cheese. Be sure to try it soon before it runs out! 
Now there's something to think about if you're planning a Mexican themed party! If not, our birthday party catering in Perth has always got your back with our crowd pleasing finger food menu.
Ciao for now pie lovers x
However you choose to celebrate your Straya Day this year, we hope you have a mighty good one. Cheers mate!
Nachos not your thing? Try some of our catering options instead