Working over lunch? You better make sure you feed the tribe! 
There's nothing worse than scheduling a work meeting with colleagues and not providing some grub. 
Cue corporate catering.
It's the easiest way to take the guesswork out of planning the menu. When catering isn't your forte, just leave it to the experts to handle it all. A small budget can go a long way if you use the right corporate caterer, and at Pinjarra Bakery we might know a thing or two about that.
Before you order corporate catering, here are a few things to consider.
What type of meeting is it?
Is your working lunch a brainstorming session, team building or a serious boardroom meeting? Who's attending and how many people do you expect? How much do you need to impress the people in the room? Thinking ahead about the kind of meeting you're running, and who's on the invite list, will help set the tone for your catering options and how much budget you should set aside.
Think about your space
How much room will you have to serve food and where will everyone eat? Do you plan to have a dedicated space to break away from your meeting, or will you eat and work your way through it? Knowing this will help you decide how to best serve your catered food, whether that's shared finger food platters, individual boxes, a proper sit down or self-service. The last thing you want is for food to end up on someone instead of their plate!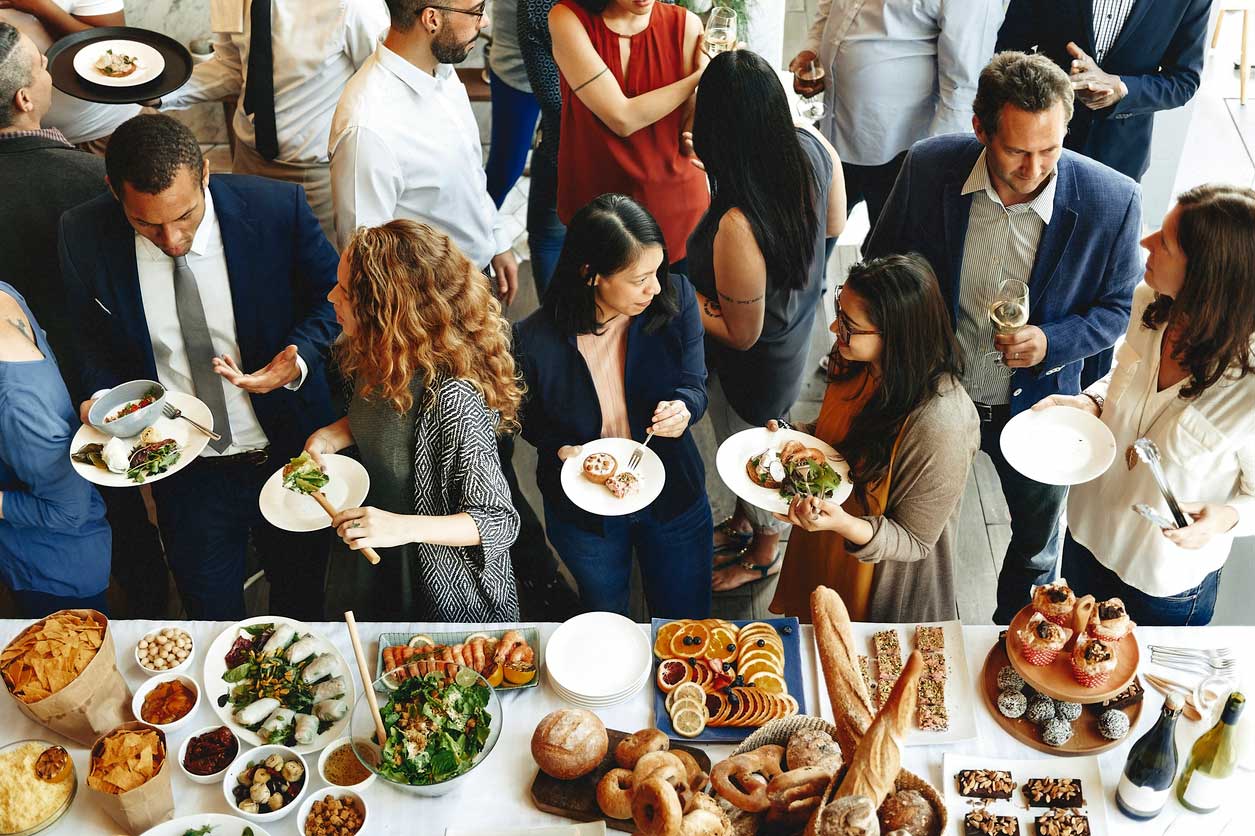 Factor in the time of day
Aside from a lunch meeting, there may be other occasions where a work related meeting will require you to organise catering. What you might serve for an early morning session is different to what you would provide in the afternoon, so make sure your catering options reflect the time of day and level of appetite you may expect. It's also worth thinking about the season, although your corporate caterer is likely to suggest seasonal options based on the freshest produce available. 
Catering for all tastes
When you hire a professional caterer to look after your catering, you don't have to worry about making sure you've covered off everyone's dietary requirements. Do you have a vegan in the room, someone with allergies or require gluten free options? Having to cater for different dietary requirements doesn't mean you should forgo quality either. 
Maintain interest and momentum
Whether it's a presentation or a business meeting, your audience will hold your attention for about 30 minutes before engagement starts to drop off. For meetings longer than an hour, you should always schedule a quick break. Even for working lunch meetings, you should allow for a quick tea and coffee break, or to stretch the legs. From a catering point of view, having energy rich, low GI food options will also help keep everyone focused and on track. Especially if you're running an all day workshop! 
At Pinjarra Bakery, we're all about a fuss free approach to corporate catering. Savoury or sweet, we take great pride in delivering the most delicious bite sized catering menu in Perth for all kinds of work events. 
---
Want to organise corporate catering for your next work meeting or function? Head to our Catering page to find out more.
 Try some of our catering options