Best chunky steak pie in the country.
Pie lovers, we're excited to announce that Pinjarra Bakery has been awarded first place in the major category "Best Meat Pie in Australia" award for our Chunky Steak pie. We feel immensely honoured to bring the title home.  
A massive thank you to the incredible judges, the legends John Ross and Craig Perry who founded the organisation, our awesome and dedicated team who have committed so much time and passion into our pie-venture and the MANY pie lovers who have made this happen. Thank you!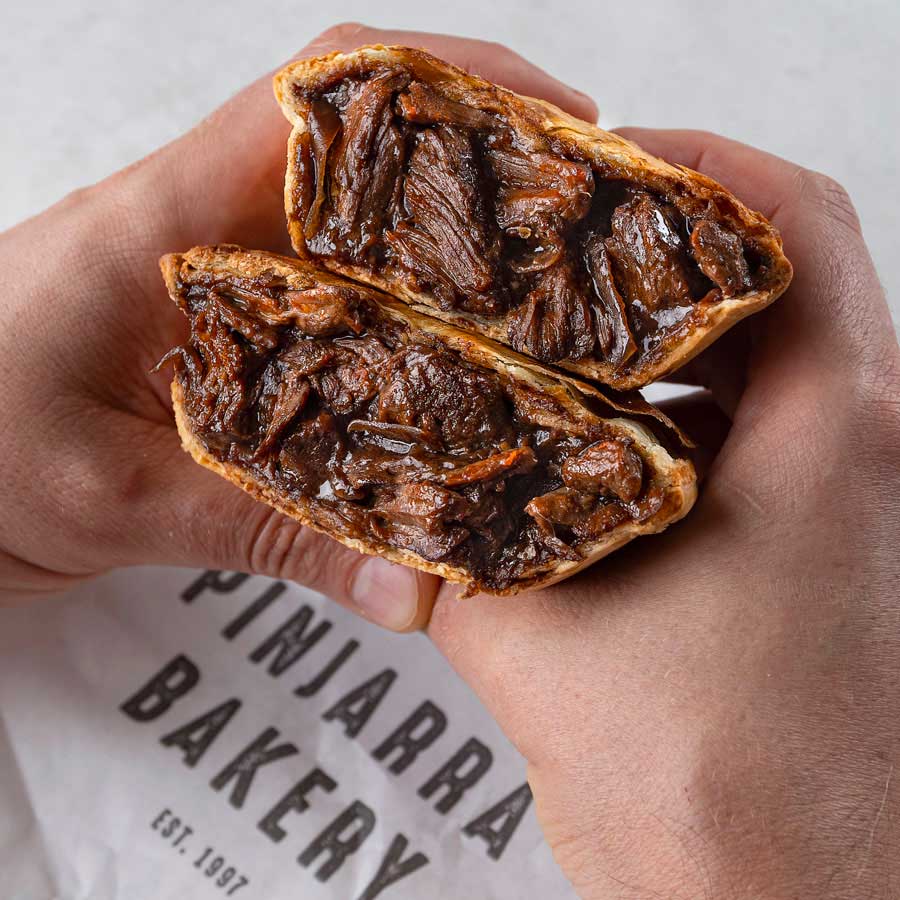 Great Aussie Meat Pies
The Great Aussie Meat Pie Competition was established in 1989 and has been running annually since its establishment. With a panel of judges ranging from bakers, chefs, hospitality leaders and representatives – it's certainly a tough board to impress! 
Bakeries across Australia enter their most impressive pies into the competition. There are limited categories – plain and gourmet – which means high competition. Thousands and thousands of incredible Aussie bakeries participate. 
Although judging pies sounds like possibly one of the best jobs ever, it's also an intense and strict process. All judges have an incredibly educated palette, analysing all components that make a pie unique and delicious. 
All entrants are required to send several samples of the same pie to be judged. The judges cut 1 of the pies in half, analysing pastry thickness, appearance, texture and filling. Pies must receive 16 out of 30 points at this first stage in order to proceed to the next stage: tasting. During tasting, the judges are looking for evenness, texture, aroma, colour and overall appearance of the pastry. For the filling of the pie, judges evaluate sensory appeal as well as flavour, quality and overall skill of the baker.
Best Pies in Perth
WA farmers have played a big part in helping us achieve our golden status. We feel very lucky to be in West Australia, where we have access to beautiful local produce. From our eggs and flour, to the vegetables, to our mince or chunky steak – we work closely with West Aussie farmers to get the freshest and best quality ingredients. We believe when you source fresh and locally, the flavour and experience of the pies is incomparable. The proof is in the pie – when you take a bite into one of our award winning pies, the flavour is fresh, the aroma is rich and the meat delicately falls apart.
Perth Features
Meat pies are iconic in Australia, alongside lamingtons and Vegemite – the humble meat pie stands as a State emblem. We're stoked to have this win for WA- the power of pie is REAL.
It has been great to witness your excitement too, check out these news articles for a closer look 
… and more!
SAVE THE DATE: 3rd December
When it comes to pies, you can't beat the classic chunky steak. Packed with meat, wrapped up in homemade pastry and cooked to perfection. If you're yet to try our Chunky Steak HAVE YOUR CHANCE. Save the date for 3rd December – we'll be serving up the award winning Chunky Steak Pie for a LIMITED TIME. Join us at your nearest Pinjarra Bakery location- Pinjarra, Waroona, Maddington and Port Kennedy.